LADIES TEAM RESULTS
AIG Cup Results
---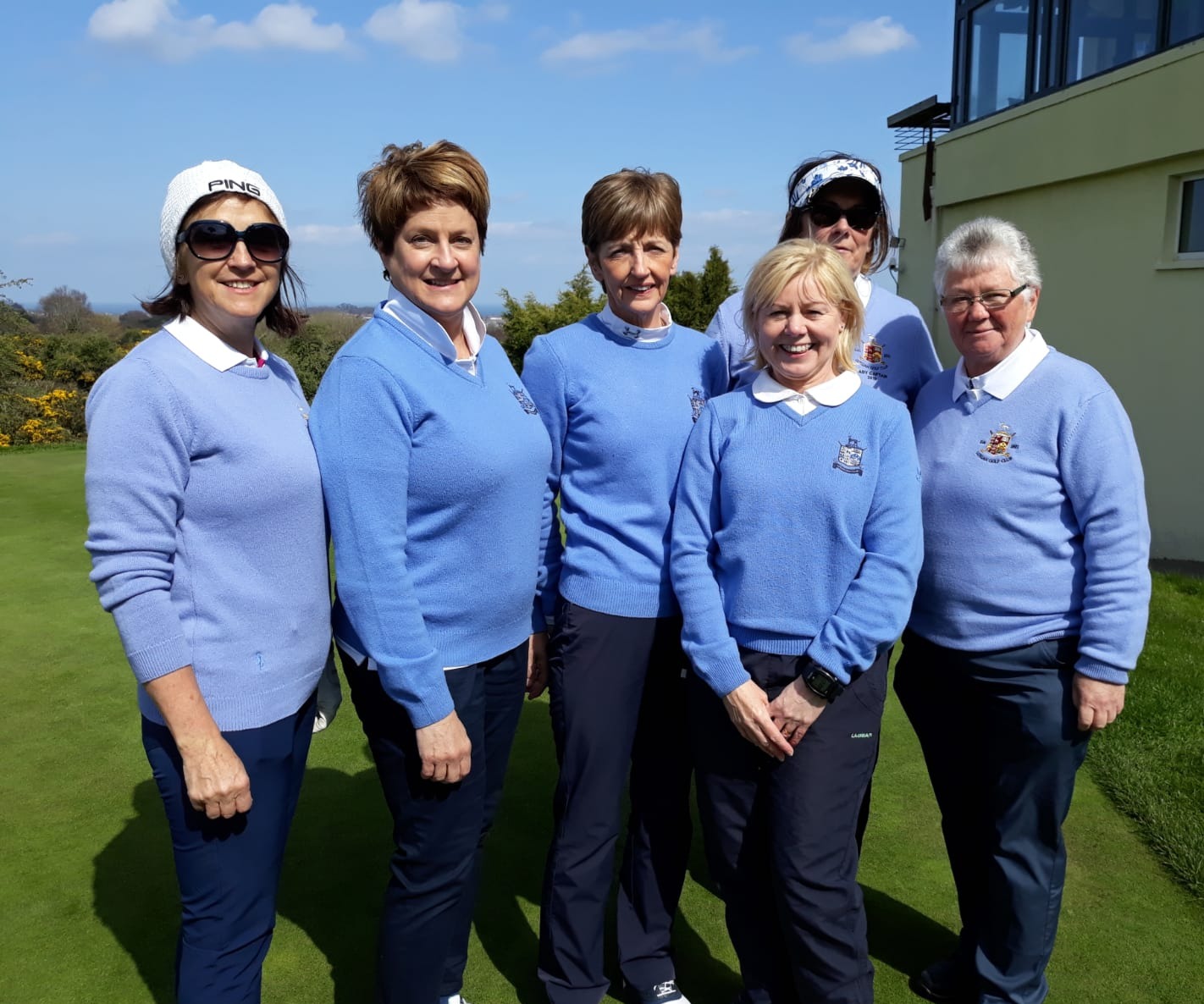 The Minor and Challenge Cup teams kicked off their 2019 cup campaigns on Saturday when both teams travelled to the North Down Coast for their first matches. The Minor Cup team headed down the Ards peninsula to face Kirkistown Golf Club and in very tough, cold and windy conditions, team Captain Elaine Bell was delighted to report that her team managed to claim three matches. Brenda Gallery's Challenge Cup team had the shorter journey to Clandeboye Golf Club but the conditions were no easier and she too was delighted that her team also came away with three wins. A great start to Lurgan's 2019 cup campaigns and the results stand both teams in good stead when they face their opponents on home ground. Well done both teams.
---
Intermediate Cup
---
The Intermediate team started their cup campaign with a home draw against Bangor Golf Club. Conditions round the front nine were tricky with showers and a blustery wind but thankfully the weather improved on the back nine. The first three matches were very tight affairs with all matches going down the 18th. Lurgan had to battle hard to get two half matches and sadly lost one on the 18th green. The last two matches out fared better and thankfully they both secured good wins with a 4 and 2 and a 5 and 4 scoreline. This puts the team in a good position for the away games with the score sitting at 3 to Lurgan, two to Bangor and Lurgan being 8 holes up. The team travel to Bangor next Thursday for the return leg knowing that they face a tough battle to progress to the next round. Second Leg The team travelled to Bangor on Thursday 2nd May for the return leg, holding a slender lead and knowing that their opponents would be a tough proposition following the tight matches at Lurgan. The conditions on the day did not help the cause, with persistent heavy showers over the front nine, however by the back nine conditions had improved. The team battled hard, but in the end could only secure two wins which meant the scores were tied and sadly they lost out on holes. Thanks to Team Captain Katrina Bradford and all her squad for their efforts. Squad Katrina Bradford, Pam Morrow, Jacqui Conn, Anne Knox, May Baxter, Heather Shaw
---
Junior Foursomes
---
The Junior Foursomes team travelled to Donaghadee Golf Club on Thursday 18th April for the first leg of their first round match. The weather was kind to them, as it was a beautiful sunny day; sadly the result was not so kind! The first and third pairings battled hard, but the local knowledge of their opponents meant that they could just not get a run of holes together and both pairings came away without any points. The second pairing fared better and indeed were one up going on to the 18th but their opponents putted brilliantly to rescue a half. With slim pickings from the away match, Team Captain May Baxter and her team knew they faced a mammoth task on home turf, but they were determined to battle and not throw in the towel. The match was played on Monday 29th April and the team had a bit of a shake-up due to last minute handicap cuts, but there was plenty of experience on the team and a desire for revenge. At the turn, things were looking promising with the final two pairings both well up at the 9th by three and four holes respectively. The first pair were having a tough battle and sadly when they lost and the good play of the others was all in vain as the team had to concede defeat. Yet another year when we set out with great hopes but alas never realised them. The importance of away points was made all too obvious to the team! The team would like to thank Captain May Baxter who not only had to do all the organisation, but also had to step in to play twice due to unforeseen circumstances. There is always next year!
Squad : May Baxter (Team Captain), Katrina Bradford, Tara Walsh, Anne Knox, Pam Morrow, Ita Hanna, Heather Shaw, Elaine Bell
---
Minor Cup
---
The Minor Cup team completed the second leg of their match against Kirkistown Golf Club at home on Sunday 13th April. Having taken three matches away from home , the team was confident that they could secure the victory on home turf, but they were taking nothing for granted. Team Captain Elaine Bell had a few changes on the team from the first leg and the first of these was Alison King. Her break in Donegal must have done her some good as she wasted no time in securing the first point with an emphatic 6&5 win. The second point came from Orlaith Lennon who was 4 up after nine and she kept up the pressure to win 4&3. The race was on to see who could secure the winning point and Roisin Anderson was first past the post with another great win 6&5. This meant that the other matches involving Julie Jordan and Anne McFadden were called in. Team Captain Elaine Bell was delighted with the victory and the team now awaits the conclusion of the match between Rossmore and Banbridge to see who their second round opponents will be.
Squad : Alison King, Orlaith Lennon, Roisin Anderson, Julie Jordan, Anne McFadden, Ursula Dummigan, Catherine Jinks
---
Senior Cup
---
The Ulster district Senior Cup qualifiers took place over the weekend of 18th and 19th May 2019. The squad travelled to North West Golf Club in Buncrana hoping that this might be their year. On Saturday morning, the team faced Bangor Golf Club in the quarter final and on paper they looked to have the stronger side. Conditions were damp and cold but the conditions did not dampen the spirits of the team as they came through with a fairly comfortable victory.
Lurgan 4 V Bangor 1
Niamh McSherry (+2) beat Mandy McEvoy (4) 7/6
Maeve Cummins (0) bt Rachael Graham (6) 6/5
Niamh Ward (1) V Jacque Hamilton (8) 7/6
Cara Murphy (5) V Finola Duncan (9) Halved
Fiona McGrady (6) V Barbara Fox (11) Halved
The following morning the team had a very early start for the semi-final against the much fancied Royal Portrush side who have been winners of the Ulster and All-Ireland titles so many times in the past few years. The team knew that this would be no easy task and so it proved. As the matches progressed it was clear that this match would be going to the wire. Over the first nine, fortune seemed to be favouring Royal Portrush, but over the back nine the Lurgan front three really hit their stride. Niamh McSherry put the first point on the board playing some fantastic golf against Lucy SImpson. Maeve Cummins faced the experienced Helen Jones, who got off to a very quick start and Maeve found herself three down. However, it was not long before she too found her form and the score was reversed with Maeve going three up. Lurgan were hoping to close out the match on the 16th, but the Portrush player refused to lie down and managed to take the match to the 18th. Nerves were beginning to jangle a bit as Maeve approached the 18th one up. She may have felt nervous, but did not show it as she managed to close out the match. Two points on the board and one more needed. The last two matches were not going Lurgan's way so the pressure was building on Niamh Ward's shoulders. Again, Lurgan approached the 18th one up and needing the vital point. Niamh played two tremendous shots to the green and when her opponent left her second just short of the green, Lurgan dared to hope. In the end, it all came down to two putts. Niamh calmly holed her putt, leaving her opponent facing a must sink putt. To the relief of Lurgan, the ball skirted past the hole ensuring victory and a first ever Ulster Senior final for the club.
Royal Portrush 2 V Lurgan 3
Lucy Simpson (0) lost to Niamh McSherry (+2) 3&2
Helen Jones (3) lost to Maeve Cummins (0) 1up
Hannah Henderson (4) lost to Niamh Ward (1) 1up
Judith Allen (4) bt Cara Murphy (5) 5/4
Anna McVicker (7) bt Christine Hagan (8) 3/2
The team faced a quick turnaround and had no time to reflect on their win, within an hour they were back on the course to face another strong team, Royal County Down. Once again Lurgan were facing formidable opponents. Niamh McSherry was facing one of Ireland's top amateurs in Paula Grant and this was a fantastic game. Niamh was matching the RCD player shot for shot and but could not get ahead in the match and finally succumbed on the 16th. Maeve and Niamh Ward were having tight tussles and were well placed in their matches but Lurgan were going to need a third point from somewhere. As it turned out the fourth and fifth matches finished with no points the second and third matches were called in and recorded as halves.
Day 2 Final Senior Cup
Royal Co Down Ladies 4 V Lurgan 1
Paula Grant (+4) bt Niamh McSherry 3/2
Beth Coulter (+2) V Maeve Cummins (0) Halved
Anita McCaw (5) V Niamh Ward (1) Halved
Mollie O'Hara (5) bt Cara Murphy (5) 5/4
Kate Evans (5) bt Christine Hagan (8) 7/6
The team may have just fallen short at the final hurdle, but this was a fantastic achievement for the girls. They made a little bit of club history by reaching their first ever Senior Final and can be rightly proud to be the runners up this year. The standard of golf was outstanding and once again our girls have done the club proud. There is an outside chance that they can make the All-Ireland final as three runners up from all the regional finals will be selected on the basis of lowest team handicaps. It was a pleasure to witness the maturity and great golf played by the girls as they broke their own glass ceiling by reaching the final, something that has eluded them in recent years. Their first thought at the end of the final was not to be disappointed, but to start thinking about next year and how they could overcome the final hurdle. Congratulations girls, you made club history and can be rightly proud of your efforts over the weekend.
Squad : Niamh McSherry, Maeve Cummins, Niamh Ward, Cara Murphy, Christine Hagan, Fiona McGrady, Aoife Brown
---
Peggy Nelson Trophy & Miss Fran McCann's Prize
---
It was very much a case of "the last shall be first" on Tuesday when the last player to take to the fairways, Sarah Denver, walked away with first prize with a magnificent score of 39 pts which will see her handicap reduce to 16. Sarah has been away for some warm weather training and it has certainly paid off. With 10 pars on her card Sarah will probably feel that she could have scored even better, if it hadn't been for a few blips, but all the signs are that this promising young golfer will only continue to get better. Fresh from winning the gross prize on Sunday, in the mixed greensomes with her dad Damien, Cara Murphy made it back to back wins with a gross score of 30 gross pts. By Cara's standards she will feel that she had a mediocre front nine but she was certainly on fire on the back nine which she toured in one under par thanks to 8 pars and a birdie at the 15th. A great round of golf and there's no doubt a really low score is on the way for Cara sometime soon. Another lady very much in form is our match and handicap secretary Anne Knox. Anne just held off Liz Denver to win section one with a score of 37 pts. The front nine must have been playing difficult on Tuesday as Anne struggled with it too but she found her groove on the back nine to hold off Liz for the prize. The morning ladies got the worst of the weather but Roslyn Millar didn't let that hold her back as she won section two by three shots with her 36 pts. Roslyn is moving through the ranks as she won section three last week and is proving that she is a force to be reckoned with as she tops the pile in section two this week. Brenda Gallery won section three with 31 pts. This is the third week in a row that Brenda has finished in the top ten overall so team captains will certainly be keeping an eye on Brenda as one of our most consistent performers. Christine Maguire was just pipped at the post in the mixed on Sunday but her 16 pts was good enough to win the nine hole prize on Tuesday. There were four twos on Tuesday and Heather Shaw must have had her putting boots on as she had two of them. Fiona McGrady and Helen Stewart were the other lucky twos winners. The ladies who will go through to represent us at the Peggy Nelson Finals at Dunmurry Golf Club on Monday 15 July are Cara Murphy, Sarah Denver and Roslyn Millar and we wish them well for their day out. Well done to all the winners and a big thanks to a Fran McCann for sponsoring the prize.
---
Easter Trophy/Mrs P McCracken's Prize
---
Thirty-eight ladies took to the fairways on Tuesday to shake off the over indulgences of the Easter break and to compete for the Easter Trophy and Mrs Paula McCracken's Prize. The scoring was as hot as the glorious Easter weather and it took 42 pts from Sian Mulholland to claim the trophy with a round of three over par. Sian is well known as a determined competitor and she plugged away throughout her round, despite a few set backs, and was rewarded with three birdies in a row at 15, 16 and 17. A great score for Sian which reduced her handicap to 8. With Sian taking the best nett the gross went to Cara Murphy with a round of 31 gross pts. Cara has been very consistent this year and Tuesday was no exception with a tidy card concluding with a birdie at the last. Not only has Cara won the gross but she has joined the elite as a category one golfer by reducing her handicap to 5 so congratulations to Cara. Hopefully she will have been rewarded with an extra Easter egg for this great achievement. There was tough competition for top spot in section one with two ladies, in addition to Cara, reducing their handicap. Tara Walsh has been very impressive over the winter and our team captains have been watching her progress with interest and on Tuesday it all came good for Tara with a score of 38 pts. Tara has now reduced her handicap by two shots in two weeks which would suggest she has a few more reductions on the way. Just pipped at the post, despite a birdie at the last, was Katrina Bradford with 37 pts which will also see Katrina take a shot from her handicap so another player to watch in the coming weeks. Christine Maguire continues to dominate in section two and had 40 pts this week which was good enough to win her section by 3 shots. Christine has lost 3 shots in as many weeks off her handicap so all her practice is paying off. Also worthy of a mention in section two are Roslyn Millar, Lady Captain Pat Carville and Eleanor Turnbull who all beat their handicaps by scoring 37 pts so great golf from them all. Section three was a very tightly bunched affair with only 4 shots covering all the players but Deirdre McGlone just edged it from Kate Wilson and Brenda Gallery by virtue of the better back nine. It was great to see Joy Stevenson back on the fairways and she made an impact straightaway by winning the nine hole competition just beating Bronagh McKavanagh on the better last six holes. In addition to Sian Alison King secured the only other two of the day. Congratulations to all the winners and a big thanks to Paula McCracken for sponsoring the first prize.
---
Carroll Cup / April Monthly Medal
---
The bad weather on Tuesday not only played havoc with the ladies' hairdos but had an impact on the timesheet with only thirty ladies braving some blustery showers. Our new Scottish star, Gwen McCracken, didn't let the weather put her off her stride, and came out at number one with a nett 69. Gwen played her card on the Alternate Day but the weather wasn't any more favourable, so maybe her long distance running training helped her to endure the conditions better than some of the rest of us. Her score will see her handicap reduce to 14 and this could kick start a good season for Gwen.
Cara Murphy is now a seasoned gross winner and this week her 77 gross was worthy of claiming the prize. Birdies at 10 and 17 were Cara's highlights and with the CSS moving to 74, she solidifies her Category One handicap status with another handicap cut.
Pam Morrow made a welcome return to the winner's circle with a nett 74. Pam had featured heavily in the first few weeks of the season, but by her own high standards she will be disappointed to have slipped back a bit, so hopefully this win will see her back on the right track. Pam just held off Orla O'Dowd by a shot, but Orla's score was good enough to see her into the playoffs for the match play stage of the Carroll Cup. Roslyn Millar continues her run of good form and won Section Two with a nett 75. A quick look at Roslyn's card shows that she is playing excellent golf and was a bit unfortunate on the back nine to let her score take a bit of a hit, but there's plenty more to come from Roslyn.
Helen Stewart won section three with a nett 77. Helen will have been delighted to get her score in given the weather conditions and richly deserves being rewarded with a prize. Stroke competitions can be very trying, as it can be soul destroying to take a big score at a hole, so all ladies are to be commended for not being put off by the weather, especially as some of them have had several soakings this week already when playing team matches. Katie Allen was our only 9 hole competitor so an easy win for Katie!
The two best gross and nett go forward to the match play stage of the Carroll Cup and the matches are as follows:
Pam Morrow v Cara Murphy
Orla O'Dowd v Gwen McCracken
Two great matches and we hope they all play well and enjoy them.
The Monthly Medal was played in conjunction with the Carroll Cup and Gwen McCracken needless to say won the Silver section with Roslyn Millar winning the Bronze section.
Gwen McCracken : WInner of Tuesday's Competition
---
Australian Spoons Greensomes
---
Tuedsay 7th May saw the ladies pair up to play in the Australian Spoons which takes the form of a greensomes stableford competition. Eighteen pairs tackled the challenge in mixed weather conditions, with the late afternoon people suffering the worst of the weather. This however, did not dampen the spirits or affect the scores too badly as the pairs taking the spoils all came from the late afternoon players. It is said that last shall be first and the first shall be last and so it proved today. One of the last pairs out, Jacqueline Conn and Sarah Denver, who incidently won the club qualifying of this competition last year, landed an excellent 40 points to take the top spot. Pars at 2,5,7 and 8 and a fantastic two at the 11th hole were the highlights of their round. The runners up were Elaine Bell and Anne Knox. This pair had 16 points round the front nine, but played the back nine in tidy fashion with pars at 12,17 and 18 seeing them amass 21 points round the back nine. The gross prize was claimed by the ever-reliable Cara Murphy and her young partner Aoife Brown. This pair combined well and played an impressive round with eight pars and four birdies to their name. The winners, Jacqueline and Sarah and plus the best gross pair, Cara and Aoife qualify to take part in the Ulster District final which this year takes place at Royal Belfast Golf Club on the 23rd July 2019. We wish them all the best. The nine hole competition was won this week by May Crealey with an excellent 20 points which sees her reduce her handicap by one shot to 31.
---
Greer Cup/Monthly Medal
---
As the professionals gear up for one of their major tournaments at Bethpage Black, 51 ladies in Lurgan were bathed in glorious sunshine as they took to the fairways to compete in one of their majors, the Greer Cup. The lady who put in a major performance to hoist the spoils was Margaret O'Neill with a nett 71 just beating Maeve Cummins on the better back nine. Margaret and her coach, husband John, can be regularly seen on the fairways and whatever they have been working on is really paying off as Margaret played a steady round of golf and topped and tailed the back nine with pars to complete her card and made a significant dent in her handicap and lift the trophy. Maeve Cummins has just returned from completing an impressive freshman year in America and she didn't let jet lag hold her back when she toured the course in 71 shots to win the gross. A great round from Maeve and we are all glad to see her back on the fairways in Lurgan and have no doubt her good golf will continue in the summer months. The section one prize was another hotly contested affair with our treasurer Susan McMorrow just holding off a challenge from another category one golfer, Cara Murphy, courtesy of the better back nine. Both ladies had nett 73's but despite Cara having an eagle at the last Susan was able to pip her at the post. It's great to see all these low handicap ladies playing so well and we wish them all the best as they head to the Senior Cup in Donegal this weekend. There was a real tussle for the section two prize with five ladies within 3 shots of the winning score of nett 74 but Christine Maguire just managed to hold off Roslyn Millar to take the honours. Christine has been a regular in the prizes and must be riding high in the order of merit standings. Another lady with her husband as coach and mentor is the section three winner Helen Stewart who won her section this week with a nett 75 just keeping Jenny Lyness at bay by a shot. Helen really sealed Jenny's fate as runner up by finishing off with two pars so a great finish for Helen. There were 5 twos this week Elizabeth Denver, Fiona McGrady, Orla O'Dowd, Sian Mulholland and Gwen McCracken. The nine hole winner was Pippy Clarke with 16 pts. Maeve Cummins won the silver section of the monthly medal with Margaret O'Neill winning the bronze section. Good luck to all ladies playing team matches this week and a big congratulations to Margaret O'Neill winner of the Greer Cup.
---
Professional's Prize/PGA Tankard
---
This week fifty one ladies played in one of our "big days" when they played for prizes kindly provided by our professional Peter Hanna.
The three young ladies who came away with the spoils of victory were three of our Senior Cup squad who made history when they finished runners up in the Senior Cup regional finals at North West Golf Club last weekend, so just rewards for working so hard and representing our club so well.
The winner with an excellent score of two under gross for 38 pts was the in form Maeve Cummins. Maeve's card featured five birdies and three bogeys including a two at the 8th which was one of only two twos on the day. Maeve has now joined the ranks of the plus handcappers with a nice cut to +1 which she will be delighted with.
The other two was scored at the 12th by one of our up and coming stars Aoife Browne and contributed to her scoring 37 pts which was good enough for the runner up spot. Aoife had a slow start on the front nine but back to back birdies on 11 and 12 led to a much better scoring back nine and in addition to finishing runner up Aoife cut her handicap to 8. Aoife may not be able to navigate her way round 'stroke' city, (ask Christine Hagan about the circuits of the maiden city!), but she can certainly navigate her way round a golf course.
Completing the trio of youthful winners was Niamh McSherry with 33 gross pts giving her her first gross since returning from America. We are all delighted to see Niamh back although she is probably still coming to terms with where she is herself after flying home from America on Thursday, playing in Donegal on Saturday and Sunday and then hitting the fairways in Lurgan on Tuesday. It would exhaust most of us just thinking about it!
Tara Walsh returned to the prizes this week with 36 pts. Tara had a very steady card with only one blip at the 8th and there surely must be a big score on its way to Tara soon. 36 pts was good enough to top section two as well and Grizel Tarkington was the lucky lady in this section. Grizel is always out early and maybe her head wasn't just in gear on the first few holes when she dropped a few shots but by the time she hit the back nine she had found her groove and scored 4 pars to make her score.
The final section prize went to Deirdre McGlone with 31 pts. Deirdre has had a quiet start to the season but it all came together for her this week and hopefully now she has tasted victory it will make her keen for more. The nine hole winner was Evelyn Magee with 15 pts.
Congratulations to all the prize winners and a big thanks to Peter Hanna for sponsoring the prizes and for all the support and encouragement he gives us on a weekly basis.
Maeve Cummins winner of the Professional's Prize and the PGA Tankard Qualifier
---
Mrs Pamela Morrow's Prize/British Legion
---
Pamela Morrow will have an easy job selecting a prize for the winner of the competition she sponsored this week as she has won it herself with 38 pts. Pamela got off to a flyer early in the season and has recently returned to form and this week 8 pars contributed to a score that culminated in 38 pts and a reduction in handicap from 17-16. The gross prize went to Niamh McSherry with 33 gross pts. The fourth would appear to be Niamh's least favourite hole, at the minute, while on the other hand the 7th hole must be her favourite as it's playing as a certain birdie to such a long hitter as Niamh. Heather Shaw won the section one prize by two shots, from Cara Murphy, with 37 pts. Heather enjoyed a very steady round and her only blip on a tidy card came at the 14th. Eleanor Turnbull was the run away winner in section two with 37 pts. Eleanor has featured regularly in the top ten this year and was on for an even better score on Tuesday after a good front nine but unfortunately had a few mishaps at 11 and 13, but great play from Eleanor who cut her handicap to 28. Sheila Horner recorded her first section win of the year with 31 pts so well done to Sheila hopefully this will see the start of a good run. Sarah Denver, Fiona McGrady and Cara Murphy all recorded twos and Evelyn Magee won the 9 hole competition.
---
McGeagh Cup
---
The McGeagh Cup was up for grabs on Tuesday and Christine Hagan well and truly stamped her name on the trophy with a magnificent 69 net. Christine had three fine birdies at 4,5,and 15 on her way to her score and in addition to getting her name on the trophy, she reduced her handicap to 7. Maeve Cummins continued her good run of form and after a tight tussle with her playing partner NIamh McSherry, she just sneaked the gross with a level par 72. Sarah Denver and Christine Hagan were the last two players to take to the course and it was worth the wait as Sarah picked up the Section 1 prize with a net 71. Sarah had a great round going and just ran out of steam on the last few holes to allow Christine to get away from her, but in addition to her section prize, she will have been pleased to reduce her handicap further to 16. Section 2 went to our hard-working Lady Captain , Pat Carville who just lost out on the top spot by one shot with a net 70. Lady Captain will no doubt be delighted to see her handicap tumble, with a big reduction in her handicap of two shots. Pat has been a great supporter of the ladies' teams this year and maybe she has picked up a few tips along the way which assisted on her way to the prize on Tuesday. Kathleen O'Hara will be delighted to take the Section 3 prize with a net 77. Kathleen had stiff opposition from Priscilla Clayton and Jenny Lyness and did well to keep her score together to hold off their challenge. There were four two's with Fiona McGrady getting two of them. Aoife Brown and Niamh McSherry shared the spoils with one each. The 9 Hole competition was won by the consistent Josie McAnarney, a regular winner of this prize.
---
Captain's Prize
---
Niamh McSherry aced the test paper for winning the Captain's Prize on Tuesday by having a hole in one at the 17th, backed up by her first birdie of the year at the last, to give her 36 points, a winning score. The current course record holder, turned what was an average day, by Niamh's lofty standards, into a very special one when she hit a pitching wedge into the 17th for her third hole in one, cheered on by her playing partner Aoife Brown who was delighted to be witness to such a moment. Congratulations to Niamh, a memorable way to win a prestigious prize. With Niamh getting the net, the gross prize went to Christine Hagan, who had 26 gross points, just holding off Fiona McGrady by a shot. Christine's report card shows that she a two birdies but a couple of bad holes wrecked what otherwise would have been a good card, but nevertheless, it was still very special to win the gross on Mr Captain's Day. The nine hole prize went to Katie Allen who managed to sneak her nine holes in after work and her 18 points won her the prize. These three prizes will be presented at Captain's Night on the 29th June. The other weekly prizes went to Gwen McCracken in Section 1 with 36 points, who was just pipped for the main prize thanks to Niamh's outstanding finish, Roisin Anderson in Section 2 with 33 points, just beating Margaret O'Neill and Geraldine HIckland on the better back nine, and Helen Stewart in Section 3 with 32 points. There were five two's and a hole in one. In addition to Niamh's ace, Gwen McCracken, Liz Denver, Christine Hagan, Eadaoin Ward and Pam Morrow all had two's. These prizes will all be presented on the 2nd uly. Well done to all the prize winners and a big thanks to Mr Captain for his prizes. We all wish him all the best for his Captain's Day on the 29th June and more imporantly two dry days and some sunshine!
---
---